The Best Selection of Watch Bands in Canada
The Best Selection of Watch Bands in Canada
Free Shipping on All Orders in Canada
What Our Customers Are Saying!
Great service, communication and quality straps! Couldn't have asked for anything better. Fits and looks amazing on my Sarx055. Quick delivery. 10/10
I'm back for more! My second order from u. Awesome! U guys are fantastic.
I don't wear watches myself but I bought this strap for a dear friend of mine who wanted a navy strap (his favorite color). He absolutely loves it and tells me it's super comfortable. I also learned how to use the spring bar remover tool from him (can't believe you offer one for free) and I just wanted to say your service is top notch and I'm very grateful.
Such a great store! Lots of choices and good quality. I received my order quickly and I will definitely order from them from now on.
Received my order-- and what a lovely strap! I'm very pleased! I'll be sure to order some more from you!
Amazing store with a lots of high quality watch straps
Style your Apple Watch - Grab our adapter, mount any 22mm band!
Welcome to Watch Straps Canada, your premier destination for superior, high-quality watch bands in a plethora of styles and materials. Whether you're searching for the rugged durability of a rubber strap, the classic elegance of a leather band, or the casual sophistication of a NATO strap, we are your ultimate one-stop shop. As a leading provider of watch bands in Canada, we're committed to delivering excellence with each strap we offer.
Our wide selection boasts an incredible array of leather, NATO, exotic leather, rubber, sailcloth, suede, and Marine Nationale straps. In addition, we also cater to the tech-savvy crowd with a wide range of 22 mm straps that can fit your Apple Watch Bands with one of our adapters. For those who desire a unique twist, we also offer intricately woven tweed straps that stand out in any crowd.
Being customer-centric, we strive to provide the best quality straps at unbeatable prices. Each of our bands is meticulously crafted from durable, long-lasting materials to ensure they withstand the test of time. We take pride in offering a diverse palette of colours and styles, suitable for any taste and occasion.
Our watch straps are not just durable but also designed with ease of use in mind. All orders come with a free strap removal tool for you to transform your timepiece in mere minutes, adding a fresh breath of life to your beloved wristwatch.
At Watch Straps Canada, we acknowledge the importance of a perfect fit. Therefore, we carry straps in various widths, ranging from 18mm to 24mm, to ensure compatibility with a wide array of watch models.
We are not just in the business of selling watch straps, but also building trust and offering unparalleled customer service. This is evidenced by our extended 90-day warranty on all products and our commitment to customer satisfaction.
To make your shopping experience seamless, we offer free shipping across Canada. We believe that a simple change, such as swapping a watch band, can significantly elevate your timepiece's style and individuality. So why wait? Explore our diverse collection now and find the perfect band that complements your personality and style.
Discover the best in Canadian watch strap options with Watch Straps Canada – your home for high-quality, stylish, and affordable watch bands.
Frequently Asked Questions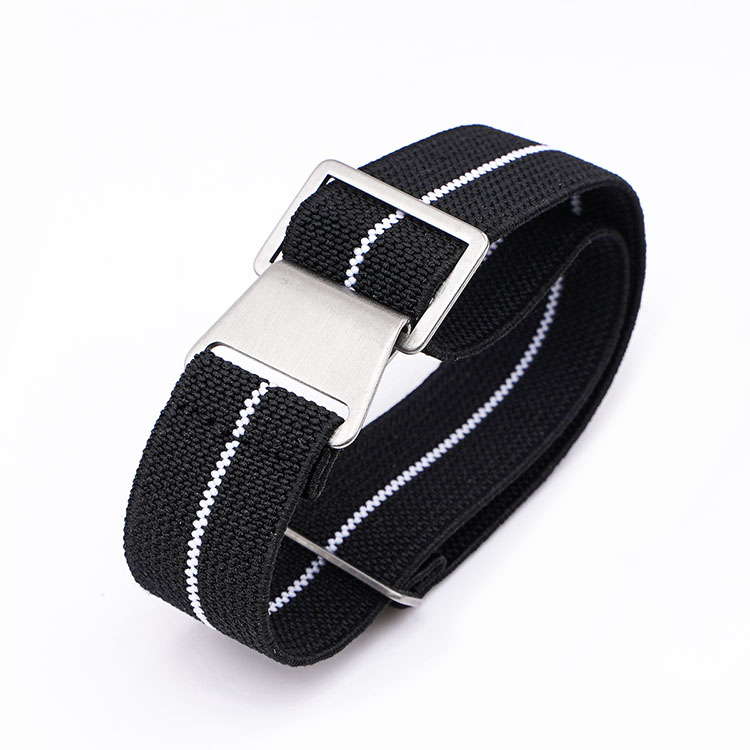 Exploring the Heritage of Marine Nationale Watch Straps: A Testament...
Read More
Watch Straps Canada - Your home for high-quality, stylish, and affordable watch bands.