Size Guide: Find the right bands for your watch
The lug width will determine the size you need for your watch. You can determine the lug width by measuring the distance between the two lugs as shown in the picture below.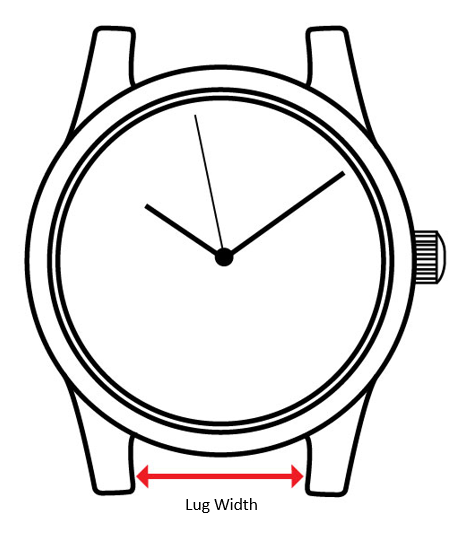 Series 1 – 3: 38mm and 42mm
Series 4, 5, 6 & SE: 40mm and 44mm
Series 7,8 & 9: 41mm and 45mm
Apple Watch Ultra: 49mm
Watch Straps Canada Size
Small: 38mm, 40mm & 41mm
Large: 42mm, 44mm, 45mm & 49mm
If your Garmin Watch isn't on the list, unfortunately, we don't offer straps for it.
Approach S12 (20mm)
Approach S40 (20mm)
Approach S42 (20mm)
D2 Air Watch (20mm)
D2 Air X10 watch (20mm)
Forerunner 55 (20mm)
Forerunner 245 Series (20mm)
Forerunner 255 (22mm)
Forerunner 255S (18mm)
Forerunner 265 (22mm)
Forerunner 265S (18mm)
Forerunner 645 Series (20mm)
Legacy Hero – Captain Marvel (18mm)
Legacy Hero – First Avenger (22mm)
Legacy Hero – Rey (18mm)
Legacy Saga – Rey (18mm)
Legacy Saga – Darth Vader (22mm)
Venu (20mm)
Venu 2 (22mm)
Venu 3 (22mm)
Venu 2S (18mm)
Venu 3S (18mm)
Venu 2 Plus (20mm)
Venu Sq Series (20mm)
Venu Sq 2 Series (20mm)
Vívoactive 3 (20mm)
Vívoactive 3 Music (20mm)
Vívoactive 4 (22mm)
Vívoactive 4S (18mm)
Vívoactive 5 (20mm)
Vívomove HR (20mm)
Vívomove 3 (20mm)
Vívomove 3S (18mm)
Vívomove Luxe (20mm)
Vívomove Style (20mm)
Vívomove Sport (20mm)
Vívomove Trend (20mm)