The Fascinating History of The NATO Strap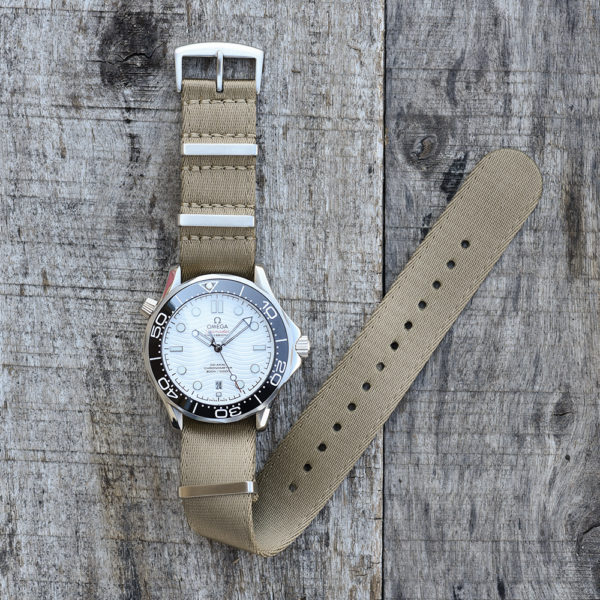 If you are a fan of collecting classic and new watches, then you must have come across the NATO strap watch. Straps are the most of a watch, no strap means no watch. The quality and design of a strap indeed identify the look of the watch. So coming back to the point, the NATO straps are the most used as well as classy straps of choice.
Let's take a look into the fascinating history of the NATO straps.
NATO Straps and its History with Military
NATO straps are regarded among the ancient and oldest kind of watch straps. It would be interesting for you to know that NATO straps were originally designed for military purposes. They were issued to the soldiers who had to fight on the battlefield. The soldiers had to fill a form to get the strap, and that certain form was called G-1098. Also, the concept of NATO straps was introduced by the British Ministry of Defense. Furthermore, this design was launched in 1973. These straps were designed in a particular manner that didn't let them fall off from the soldier's wrist during a fight.
Back in the time, NATO straps were not available in multiple colors or designs. They were available to soldiers only in a mild grey color. Many of the soldiers would get inspired by seeing their other crew members wearing this watch. NATO straps were meant to add a specific and resolute style to the uniform of the military. During the war times, they were designed while keeping in mind all the weather and war conditions. For instance, the straps were able to hold up in any rainy weather or storms.
Nylon-Material of NATO Straps
The main reason that helps NATO strap in standing out is that you can pair it with any watch. And it can go well with any dress code or style. Generally, NATO straps are made up of nylon. It is considered to be the best material choice for watches. Nylon straps can also be customized according to your preference. You can decide its style and color according to your taste. The main reason for this preference is the durability, comfort, and affordable price of nylon.
NATO straps are among some of the watch straps designs that will never run out of fashion. They are trendy and durable all the time. A fact that we cannot emphasize enough is that these straps have the perfect look to make you feel good about your personality. The stern grip of the wrist makes you feel confident and optimistic.
As we have already mentioned that NATO straps were only available to the soldiers back in the time. But if we talk about them now, they are easily available to everyone. They are no more used only for a definite or fixed purpose now. You can buy them in any color, be it formal or a funky one. It can be bought in any color you want, including black, blue, and green and so on.
What makes the NATO strap fun is the fact it can be paired up with any watch. From the most classic to the most expensive, the NATO strap can be paired up with any watch.
The Affordability of NATO Straps
A good part about using nylon as a watch strap is its flexibility, but on the other hand, it is also used because it is not expensive. The prices of a NATO strap can range from $5 to $100 surprisingly. However, paying more than 20$ for a NATO strap is not necessary as the quality will not improve with the price. The most incredible factor about this strap is that it doesn't look cheap.
The pattern of NATO Straps
When you search for a NATO strap, you come across a variety of different patterns and designs. These patterns make the strap lovelier. Some of these very beautiful patterns include Sailor, Camouflage, Syntax, Luftwaffe, and many others. One of the most famous patterns of NATO strap in the past few years has to be the stripe strap pattern. This pattern comprises a single strap. These all patterns are made of nylon but are weaved differently.
The Popularity of NATO Straps
The NATO strap became mainstream about five years ago. A very popular brand Daniel Wellington launched its collection in 2016. The major focus of the collection was on introducing the NATO straps once again. Their social media campaigns and advertisements got a lot of recognition. And since then, it has once again gotten all the attention and acknowledgment.
Most of the time when people hear the word NATO, they immediately associate it with the North Atlantic Treaty Organization. Many people believe that NATO straps were worn by the NATO troops. But it is a completely false myth. We have already mentioned the history of NATO straps, but some of these oldest straps are still available on online websites. The prices of these certain classic straps are relatively higher because of their antiqueness.
Canadian NATO Style Straps
If you search on the internet about NATO watch straps Canada, you will see some of the most beautiful and colorful designs. Many Canadian brands also offer you a strap removal tool along with more than one set of spring bars. Watch Straps Canada offers the lowest priced NATOs in Canada with free shipping and free strap removal tool. They make your requested choice of straps on order in a limited time frame. These brands offer you the NATO-style straps in sets. You can buy four or even 8 sets of NATO straps at a very budgeted and low-end cost.
5 Common Advantages of NATO Straps
We have listed out some of the significant advantages of NATO-style straps, that can make our point more affirming.
Durability
We can agree that in hot weather conditions, it becomes difficult to wear a leather strap watch. It can also be extremely tight on the skin causing all the sweating and fuss. Here's the point where nylon straps jump in for your aid. Not only they are breathable for your skin, but they also prevent your skin from causing any rashes or allergies
Light Weight
Aren't we all tired of wearing bulky watches? Well, I think all of us are. These heavily styled watches are not only a burden, but they also make you feel extremely uncomfortable. So, when it comes to NATO straps we can say that they are very light weighted. They have a thickness of only 1.3-1.7 mm only. For your strap, we would recommend you the thickness that should be estimated to an equal to 1.5 mm. 1.5 mm is the ideal thickness of a light-weighted NATO strap.
Firm Grip
The additional nylon-made stripe attached to this watch makes it hold sturdier. The usual straps are only attached to the watch through one link, but the NATO straps have at least two links. Your watch won't be able to tear up even if your strap breaks down, as the other strap will provide support to the watch. A sturdy grip on your watch will also make you feel secure.
Washable
Here comes the most amazing element of this strap. The watchband of NATO can easily be washed and used again. In case your strap gets dirty, all you have to do is get warm water and dish soap. Keep in mind that dish soap should not be very strong. Remove the NATO strap from your watch and add it to the warm water. Before adding the watch, put two or more drops of dish soap in it. Leave it for a few minutes, and then take it out to dry.
Versatility
We are living in a world of social media, where everything has to be a trend. We upload stories and let others enjoy our daily routine with us. Since the past few years, we have also seen many fashion bloggers and influencers promoting the NATO straps watches. These influencers can often be seen trying out the new straps every day. They try out numerous funky colors matching their outfits.  So, if you are a social media fan we can guarantee you that using these straps can work out for you in a good way.
NATO straps are now in existence for over 60 years. This long period tells us how stylish and durable they are to date.
To buy Nato Straps You can Shop at Watch Straps Canada Now.